Fix Cracked iPhone X Screen in NYC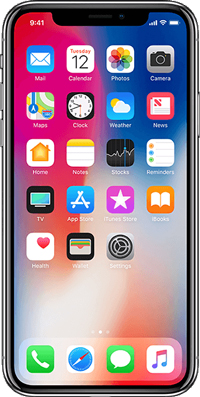 Your iPhone X definitely didn't come cheap – so you want to keep your device in great shape. If something is wrong, NYC Mobile Device Doctors is available to help you. We understand that mistakes happen – liquid damage can occur if you spilled water on your iPhone X, or if you dropped it in liquid. A broken screen can occur if the iPhone X is dropped by accident. Luckily, you have our expert techs available to provide the service that you need. We fix cracked iPhone X screens in NYC and a variety of other concerns and devices!
Our techs are here to offer same day iPhone X repairs in NYC. Our team is proud to offer the best services and very competitive prices. Your iPhone X cost a lot of money – you probably don't have a lot of money to throw around on repair services. We know this, which is why we make sure our rates are fair.
Locals love us because they know they can count on us for same day services. Many services take as little as just 15 to 20 minutes. If you would like more information on iPhone X repairs in NYC, dial the team at NYC Mobile Device Doctors!
iPhone X Cracked Screen Repairs in NYC
A cracked iPhone X screen can happen to anyone. Maybe you dropped your device while walking around the city on a lunch break. Or perhaps you set your device on the sink and it fell over. So many things can go wrong – if you ended up with a cracked iPhone X screen in NYC, then you need our experts to provide fast repairs. Don't worry, we can fix your iPhone X today!
When your iPhone X has a cracked screen, just reach out to NYC Mobile Device Doctors. Some repairs take as little as 15 – 20 minutes to complete. Others take a bit longer, but we can set up an appointment for you to assure you will have your smartphone back in your hands the same day!
Our broken screen and shattered LCD display repairs in NYC are second to none.
Fast iPhone X Repair Services in New York City
We fix various problems with the iPhone X. Come to our third party repair center in NYC for your:
Front or back camera
Microphone
Glass
Battery
Earpiece
LCD or display
Speaker
Power button
Charger port
And more!
Stop By Today for iPhone X Repairs!
If you are in need of iPhone X repairs in NYC, visit NYC Mobile Device Doctors. Price estimates are provided upfront and free of charge. Let us see exactly what is wrong, whether you have a broken iPhone X screen, a speaker that isn't working, shattered glass or anything else that needs to be fixed. We offer the fast fix you are looking for in New York City! Stop by today!