Samsung Galaxy S2 Services
| | |
| --- | --- |
| Samsung Galaxy S2 | |
Samsung Galaxy S2 General Repair Services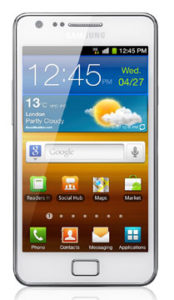 From time to time, accidents happen, and your S2 may fall victim to a damaging fall or other mishap. The most common damage smartphones see is a cracked screen and broken LCD display. When these accidents happen, you want to have trustworthy professionals take care of your phone. If you are anywhere in the New York Metro area, then NYC Mobile Device Doctors can provide you with the reliable service you need. Our highly qualified technicians know the ins and outs of all smartphones, and we always keep parts in stock, which lets us fix your S2 same-day.
Most repairs take us less than an hour, and you can be sure that our professionals will do the job right. We also offer a warranty on our services, so if something goes wrong that our repairs should have dealt with, you can take it in and get the problem corrected. Other places may not have the qualifications we have, and they might cause more harm to your phone as they work on it. Our repair shop is licensed in New York, so you can trust our quality. For an appointment, call (212) 292-8005.
Phone Specs:
Released in 2011, the Samsung Galaxy S2 has a lot of competitive features that still make it a viable smartphone today. If comes in 16 GB and 32 GB sizes with a variety of models, which depend on the carrier providing service for them. For example, AT&T provides models SGH-1777, SGH-1727, and SGH-1927; Sprint offers model SPH-D710; Virgin Mobile has the i9210; and T-Mobile offers the SGH-T989. The S2 has a powerful 1.2 GHz dual-core processor and 1 GB of RAM. With these and a wide array of other features, this smartphone is one well worth keeping in good condition.