Samsung Galaxy S2 Cracked Screen Repair and Replacement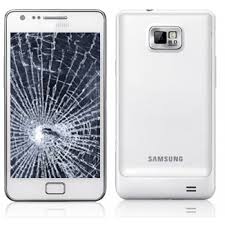 When your Samsung Galaxy S2 hits the tile or pavement it is never a pleasant sound. A cracked screen may also mean diminished touch capabilities, which the phone relies on to function. If the touchscreen digitizer doesn't work, then you can't use your phone for anything other than as a highly sophisticated paperweight.
When your phone's screen cracks up, take it to our repair center for quality service. We keep replacement screens and other necessary components in stock at NYC Mobile Device Doctors, all in order to serve you as quickly as possible. Our skill at repairing smartphones is top notch, so our professionals can have your phone's screen repaired or replaced in an hour to an hour and a half, which then allows you to get back to using your S2 the very same day. These repairs are the highest quality since we use UV activated LOCA glue. This is the best solution for screen repairs since it is completely transparent and does not interfere with the touchscreen function.
Once you've had one accident with your phone, you want to avoid the need for future repairs. When your Galaxy S2 has a shattered screen, come to us for a hassle-free fix.