Samsung Galaxy S3 LCD Replacement and Repair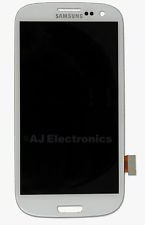 We provide same-day service on Galaxy S3 LCD repairs, which usually takes about 20 minutes to complete. With highly experienced technicians and a ready supply of OEM quality parts in stock, we provide you with the quality and timely repairs you need. This, in addition to the warranty that we offer with all repairs, allows you to have peace of mind when taking your phone to us for service.
How do you know your LCD is damaged ?
Phone makes noises but screen is black
Images are discolored ( rainbow )
Blotches of black ink spots underneath the glass
Other places may not offer the same quality of service and may end up harming other components in your smartphone. Attempting repairs on your own can also be risky if you aren't familiar with the process of disassembling a Samsung Galaxy smartphone. To complicate matters further, warranties rarely cover LCDs, mostly because LCD problems don't tend to result from faulty parts or materials. This can make repairs a bit costly, which is why we strive to offer our skillful repairs at an affordable rate. We offer a simple, time-effective, and cost-effective solution for your smartphone needs in New York City. When you need LCD repairs to get your phone back to proper working order, come to our repair center or call (212) 292-8005.