Samsung Galaxy S3 Cracked Screen Repair and Replacement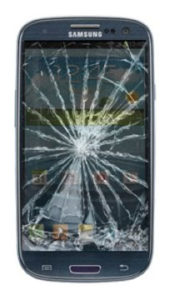 Made from tough Gorilla Glass, the screen on the Samsung Galaxy S3 can withstand heavy scratching, but it is not indestructible. It can still crack and shatter if you drop it by accident, which is why you need a reliable repair service to provide hassle-free, affordable screen replacement. No matter where you are in New York City, NYC Mobile Device Doctors is your best choice for repairing unsightly cracks on your smartphone's screen.
A cracked screen can be more serious than just being unpleasant to look at. It can interfere with the usability of your phone by inhibiting touch functionality. The touchscreen technology behind the glass may be damaged along with the screen, keeping you from operating certain functions on the phone or even using it at all. The best way to keep using your phone the way it was intended is to prevent this kind of damage from occurring in the first place. Here are some tips on protecting your phone:
Don't let it live on the edge: Keep the phone away from table or counter edges, especially if you are doing other kinds of work, like cooking, building, shifting stacks of papers around, etc. You could accidentally bump your phone onto the floor.
Use a protective case: A quality case will keep normal wear from occurring on the phone's exterior, and it can also ward off surfaces that might cause the screen to shatter. In the event that you drop your Galaxy S3, a good protective case can prevent debilitating damage.
Use your front pocket: As convenient as your back pocket may be for a smartphone, it is not very convenient if you happen to sit on it. Depending on the surface you sit on, you could bend the phone and snap the glass screen. This kind of damage won't happen if you keep it in a front pocket.
Even with the best prevention, mishaps can still damage your phone's screen. When this happens, our professionals are ready to help. Screen repairs can range between 1 to 1.5 hours, and we offer same-day repairs. You don't have to worry about delays, since we always keep quality replacement parts in stock. Feel free to contact us!