Samsung Galaxy S4 Cracked Screen Repair and Replacement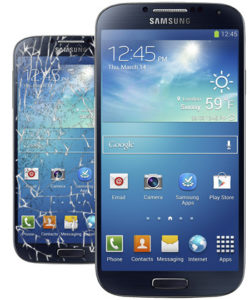 Tired of gazing at a cracked screen? Cracks can dampen your experience with your Samsung Galaxy S4. Watching videos, looking at pictures, and browsing the web aren't as much fun when you have a cracked screen in the way, nor are they quite so easy. If the screen gets cracked or shattered, you might have trouble using the touch function on the phone, since that is right beneath the tough Gorilla Glass exterior. When your phone's screen gets damaged, the expert professionals at NYC Mobile Device Doctors can get the screen back in shape within a 1-1.5 hour visit. We have all the materials and tools needed on hand at all times, including UV activated LOCA glue, and our high level of skill with mobile device hardware means that your experience with our services will be satisfying.
As long as you are careful, you should be able to avoid most screen damage, but if something unexpected happens, we are here for you. Take your smartphone to NYC Mobile Device Doctors for same-day service you can trust. Visit or call us at (212) 292-8005 for an appointment.