Samsung Galaxy S5 Home Button Repair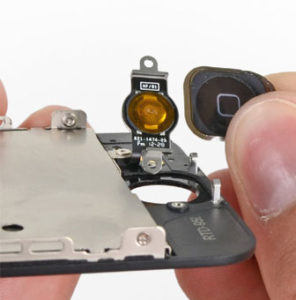 If the Home button on your Samsung Galaxy S5 is not working the way it's supposed to, then we can help you. Conveniently located for residents throughout New York, NYC Mobile Device Doctors provides quality Home button repairs at a budget-friendly price. In about two hours, we can have the Home button working the way it should again without risking damage to other features, such as the fingerprint scanner.
If the flex cable under the button wears out, it can make the button unresponsive or over-responsive, in which case it may register pushes when you never actually touch the button. Debris buildup can also be problematic as it causes the button mechanism to become stiff and hard to push. Sometimes, the problem may be as simple as a loose connector, which can be very easily fixed.
Whatever is causing the specific Home button problems your Galaxy S5 smartphone is having, we know how to accurately diagnose the problem and fix it efficiently and effectively. We'll have your phone back in your hands same-day since we always have replacement parts in stock. So why deal with a malfunctioning Home button? Visit our repair shop or call (212) 292-8005 for an appointment.