Samsung Galaxy S5 Cracked Screen Repair and Replacement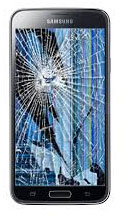 The screen on the Samsung Galaxy S5 is very scratch resistant, but if you drop it, sit on it, run over it, or accidentally cause some other impact trauma to it, then the screen is liable to break. Scattered cracks and shattered sections can get in the way of normal usage since they could block the display if they are severe enough. The broken glass could also mean that other functions are damaged as well, such as the touch screen capabilities of the digitizer. Without the touchscreen, your phone is useless. Even if the damage isn't that extensive, the cracks still ruin the appearance of the phone.
Some places will replace the entire screen component in order to solve this problem, but that can get expensive. NYC Mobile Device Doctors professionals only replace the parts that need it because of our experience with high-precision techniques for isolating damaged parts. If the glass is cracked, but the LCD is fine, we'll only replace the glass. We can therefore do the repairs with a much smaller impact on your wallet. Our many years of experience fixing mobile devices also means that there is much less risk that other parts of your phone will be harmed during the repair process. Other repair shops with less experience may not be so reliable.
We do all screen replacements for this device using the LOCA glue. This is the correct way to do it since you get the same touch and sensitivity that you had before.