iPad 2 Battery Repair and Replacement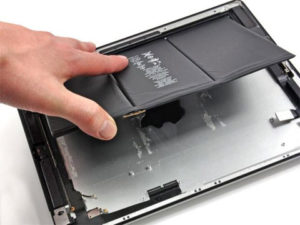 Take your tablet to the experts at NYC Mobile Device Doctors for one hour battery replacement and repair. Our skilled technicians will quickly solve battery problems for your device without damaging other components, which can be easy to do if you're not extremely careful. The battery is pretty well stuck to the inside of the device, not to mention buried under the motherboard, LCD, and other components. Repairs can be challenging for beginners, so your best option is to trust our experienced technicians to do the job. We are confident in our ability to do the job well, and we offer a 90 day warranty as an assurance of that fact.
In New York City, you can count on us to get the job done same-day without any risk. We also always have quality parts in stock, including replacement batteries. Rather than suffer any longer with a bad battery, come visit our service center or call (212) 292-8005.
How to tell when you need to replace the battery: Poor battery life is easily noticeable. If your iPad 2 can no longer go for an hour without needing to recharge, you will need to either send it to Apple or go to a professional repair service center to get it replaced. Unfortunately, Apple can take a few days to send it back, and they  may just send you a replacement device instead, meaning you'll need to back up your data if you take that route.