iPad 2 Front and Back Camera Repair and Replacement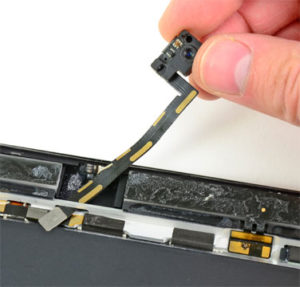 NYC Mobile Device Doctors offers innovative front and back camera repairs and replacements for residents throughout New York City. In about an hour or so, our highly experienced technicians are able to fix your iPad 2's camera issues without jeopardizing other important components. Other places may not be as precise and may even charge you if they damage the screen during repairs, so in order to avoid this headache, take your tablet to our repair center for service you don't have to worry about.
We always keep replacement OEM quality parts in stock, so there is no extended wait or hassle. If you reside in NYC and need repairs for either the front FaceTime or the back iSight camera on your iPad 2, feel free to stop by if you are in the area. Or to set up an appointment, call (212) 292-8005.
How to tell when you need camera repairs: Suppose you're on a trip, and you want to video chat with your family. You go to a Wi-Fi spot and go to chat on your iPad 2 only to discover that something's wrong. The screen might go blank, you might have a distorted or splotched image, or the app just won't work. It seems that your front camera isn't working.
Or you might be familiar with this situation. You go to take a picture with your tablet only to discover that the image quality is scarred in some way or that the photo app won't load. While the camera isn't necessarily the best around (only 0.5 megapixels), it is still useful, and it shouldn't have lines through the image or spots appearing here and there. There's something wrong with your back camera, so come ot our iPad repair shop.