iPad 3 Charger Port Repair and Replacement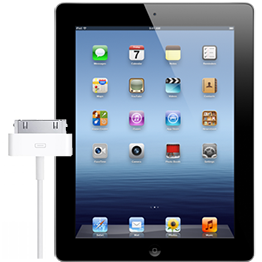 NYC Mobile Device Doctors provides convenient charger port repairs and replacement for residents in New York City. We diagnose the cause of the problem, which may be a bad power connection within the device, broken pins in the port, or normal wear that keeps plugs from staying in place. We then carefully disassemble your iPad 3 in order to get to the parts that need service. This is the part where it is easy to make a mistake and cause significant damage to other important parts of the tablet. But since we have so much experience working with mobile devices, your tablet is safe with our experts. Working to minimize the risks, we repair your iPad's charging ability within one hour.
How can I tell if the charger port is the problem? You've just plugged in your iPad 3, but it doesn't look like it's charging. Or perhaps you plugged it in to charge last night, but it is still not anywhere near 100% by morning. You might also have trouble getting your charger plug to stay in the port. It may wobble, preventing it from charging if you don't keep it in a very precise position. This gets tedious, and likely indicates needed repairs on the charger port. Intermittent or inefficient charging can get really annoying, especially when you're always on the go.
It's true that other things can prevent your iPad 3 from charging at maximum efficiency as well. If you notice that it is not charging the way it's supposed to, you can try the following steps to diagnose the problem:
Do a hard reset: If your iPad isn't detecting that it's plugged in, then a hard reset may solve the problem. Press and hold both the Home and the Power button until the Apple logo appears. After this, the device will reboot, at which point you can try plugging it in again.
Clean the port: Dust and lint may be preventing a proper connection. This can be easily solved by gently clearing away the debris with a Q-tip and a bit of rubbing alcohol.
Try a different outlet or charger: It could be the outlet you are using or even the charger. Try swapping them out to see if that solves the problem.
If you try all of these and there is still no change, then it is almost certainly a hardware problem. At that point, NYC Mobile Device Doctors is the place to go.