iPad 4 Lock Button/On and Off Button Repair and Replacement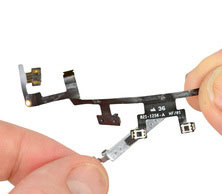 For iPad 4 Lock button and Power button services, you need qualified technicians. Our experts have highly developed skills and repair methods, making NYC Mobile Device Doctors the ideal service center for iPad tablets. We do this to save you money and make sure you get your device back in perfect working condition. In addition, we offer a 90-day warranty on all repairs. In no other place in New York will you find the same quality local service at the same affordable rate.
Our service is also fast and easy because we keep quality OEM parts in stock at all times. To get the on/off button on your iPad 4 working again, it takes us one hour at most, depending on the exact issue. For convenient service you can count on, make a quick trip by our repair center. We're always ready to help.
How to tell if you have on/off button problems: Normally, if you press and hold the lock/power button, you'll see a slider that says "slide to power off." When you have an unresponsive button on your iPad 4, however, you might get nothing instead. With extended usage, the flex cable that connects the lock button to the mainframe may become less reliable or the mechanism might not quite connect the way it should. You might end up having to push the button harder and harder to get a response or angle it to one side. Eventually, it can get stuck or simply become completely nonfunctional.
When you see any of these issues, it's time to get repairs, so contact us today.