iPad 4 Water Damage Repair Service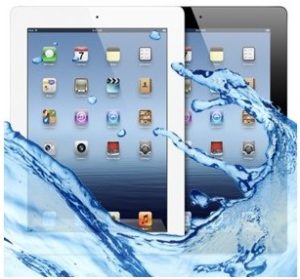 When you need water damage repairs on your iPad 4 in New York City, NYC Mobile Device Doctors is here to help! Our experts have fixed many devices over the years, solving numerous problems and making sure our customers get their devices back in top condition. All this experience comes together to allow us to do full water damage repairs on mobile devices, including the iPad 4. We do the repairs as fast as we can, and while the exact time it takes to complete water damage restoration depends on the extent of the damage, we can offer same-day  repairs. We always have the needed parts in stock, so there is no waiting for replacement components to arrive.
In the event that your iPad 4 gets in contact with water, such as falling into a pool or getting spilled on, it is crucial to act quickly. The longer the device is submerged, the more water will seep in, and the greater the damage is liable to be. As soon as you can, get it out of the water and take the following steps:
Power down: Hold the power button until you get the power off slider. Then turn it off and don't turn it on again. As long as there is liquid inside the device, there is a high chance that the circuit board can short if the tablet is running.
Wipe it: Using a rag, towel, or soft piece of cloth, clear away excess liquid to prevent it from seeping inside. The less that gets inside, the better.
Take it to our service center: As quickly as you can, get it to our experts for diagnosis and reliable repair. It is important for you to do this as soon as you can, since water can corrode parts of your tablet. We'll get it cleaned out and repaired as quickly as possible.
If you are not able to get your iPad to us right away, you can store it in a plastic bag full of dry instant rice or silica gel packets. This should dry out the device over the course of a couple days. Even then, turning on the device can be risky, since you can never be completely sure that all the moisture is gone, so getting to NYC Mobile Device Doctors is your safest option.