iPad Air Screen, Front Display, and Digitizer Repair and Replacement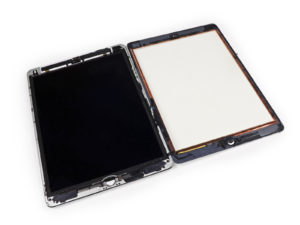 What can you do if your iPad Air has a cracked front screen? When you want convenient, same-day front display repair on your iPad Air, NYC Mobile Device Doctors is your best solution. Why? It's a combination of things:
We have experience: Our technicians have years of experience making repairs and component replacements on iPad devices, so we know what techniques work and which ones don't. We also know how to use those techniques with a high degree of accuracy, which protects your device from extra damage during the process.
We keep a well-stocked inventory: When you take your device to our repair center, you won't have to worry about hearing, "Oh, it'll be a few days before we can order the parts it needs." We keep OEM quality parts in stock at all times for all devices, allowing us to provide same-day repairs.
We work fast: With our level of experience, it will only take us 1 hour to complete screen and digitizer repairs.
We have a great location: Locals all throughout New York city all have easy access to our repair center. Just pay us a visit or schedule an appointment.
You don't get this kind of quality and convenience anywhere else in NYC. When your iPad Air no longer responds to touch commands or if the screen is broken, take it to our shop right away. You'll prevent further damage by taking it to us sooner, and we'll have it looking and working good as new before the end of the day.
To get back to enjoying your tablet after an accident, please visit or call us for an appointment at (212) 292-8005.