iPad Air Water Damage Repair Service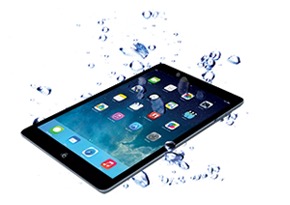 Does water damage have you panicking? Whether you've dropped your iPad Air while relaxing at a pool or spilled a drink on it at work, you have a precarious situation on your hands. The most crucial thing to do in an accident like this is to act quickly.
As soon as you can, power down and dry off your iPad Air. Then take it to NYC Mobile Device Doctors for our water damage repair service. You want experts to handle your device and take care of it, and we have he best technicians around. When you come to our service center, you can expect:
Accurate diagnostic testing on your waterlogged device.
Professional cleaning of affected areas.
Fast and affordable repairs on damaged components, all without further damage.
OEM quality parts in stock always.
Convenient location for New York locals
Knowledgeable technicians.
What is the cost and wait time to fix water damage? While the exact price and length of time vary by the amount of damage done to the device, we work as fast and effectively as we can to minimize the time and the cost to you. We also offer a 90-day warranty on all repairs, so if for some reason something didn't turn out right, you can have us look at it and correct it. Our goal is to get your device up and running as perfectly as if it were brand new, even after a water damage scare. No other repair shop in New York City has the level of expertise and the dedication to providing quality service that we have.
The next time you need water damage services on your iPad Air, hurry and take it to us! The longer you wait, the higher the chances will be that you'll have extensive damage to the battery, motherboard, charger port, LCD, and other internal components. We take walk-ins as well as appointments.