iPad 4 LCD Repair and Replacement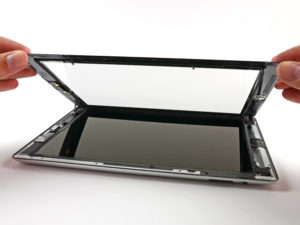 NYC Mobile Device Doctors offers quality LCD repair and replacement on all iPad 4 devices. Our repair center is conveniently located and ready to help locals throughout New York City, and within one hour, we can get your tablet's display working perfectly again. Our professionals are very familiar with the inner workings of the iPad 4, and we work carefully to avoid excess damage to other parts of your device. Our expertise is the best in New York, so you have nothing to fear when taking your device to our repair shop for service. We always have the needed OEM quality parts in stock as well, so there is no waiting for orders to come in before you can get your device working again.
How to tell when your tablet's LCD needs to be fixed: Problems with the LCD, or Liquid Crystal Display, often occur as a result of an impact. The display works by transmitting electrical signals through pixels containing liquid crystal molecules. These control the light that passes through them, which creates an image. Some minor types of damage might result in a few dead pixels, creating black splotches on the screen. More significant damage to the LCD could involve broken connections or large patches of dead pixels, which could result in large black sections or distortion. You might even have patterned lines going through parts of the display. None of these scenarios are very good for your device's usability, so if you want to get back to enjoying your tablet, you'd best get it repaired.