NYC Mobile Device Doctors – Touch Disease Repair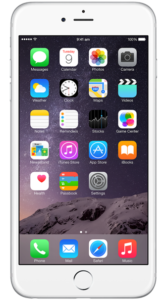 What do you know about Touch Disease? Repair services in NYC are just a call away!
It looks like the touch disease is caused by the repeated bending of the Apple iPhone case. Although Apple took steps towards reinforcing the case, small bends still happen. These slowly deteriorate the Touch IC chips found deep inside the smartphone, on its motherboard. When these components become damaged, a flickering grey bar appears near the top of your iPhone's screen and the touchscreen becomes unresponsive. The issue affects all iPhone 6 models, including the iPhone 6 Plus, iPhone 6S and iPhone 6S Plus.
NYC Mobile Device Doctors is the company that can assist you with this problem in New York. That's right, we can perform Touch IC repair procedures and can tackle complex problems such as digitizer failure and "screen not responding" issues. Some other things we can assist you with include:
Digitizer IC chip repairs. Our technicians have worked with iPhone digitizers for many years and they know exactly how to handle them.
Grey bar flickering repair. Our team uses micro soldering technology to repair or replace micro components on the logic board of your phone.
Any kind of touchscreen problems. We have the tools and experience required by the difficult job of fixing iPhones.
NYC Mobile Device Doctors makes touch disease repair look easy. Because we have invested a lot into the latest technology and into training our amazing specialists, we are able to perform very difficult operations quickly and efficiently. Our solutions are designed to last and our company offers warranties for parts and labor. You can rest assured that the problem will not resurface again after we repair your device.
We are the best phone repair company in New York City. Why? Because we love our jobs. We love helping our customers enjoy their favorite phones again as soon as possible. When working with us, you can expect same day service in most cases. And did you know that we offer the most affordable services in New York, NY? We never overcharge our customers and always provide upfront quotes. There are no hidden fees when working with our company!
Why would you choose us over another local company? Let's see:
It's a lot cheaper to work with us and we use the same technology as they do. Also, our technicians may be even better-trained than theirs.
We move faster and can often give you back your iPhone the same day you give it to us.
We treat our customers with the respect they deserve. We never take our customers for granted.
We offer warranties for parts and labor for your peace of mind.
We are more flexible and our team always performs all the necessary tests to ensure that your device works like new.
Your smartphone will look and work like new after we hand it back to you.
Your privacy is safe with us. Also, your data (photos, emails, texts, contacts, and so on) is always safe.
Apple would have you replace the motherboard of your iPhone or throw the device away. We can repair it for you at just a fraction of the price. Call today for Touch Disease repair in NY!