iPhone 5 Battery Replacement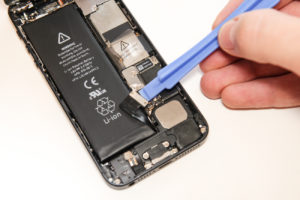 Are you constantly tied to an outlet to keep your iPhone 5 going? If so, then your battery probably needs to be replaced. We  have OEM quality parts in stock for the iPhone 5, and our qualified technicians will have your phone's battery life back to its maximum in as little as 10 minutes.
The more often you charge your device's battery, the sooner you'll need to replace it. Your iPhone battery is designed to go for 400 charges before it starts losing its capacity. This means that you can go as long as two or three years before it starts going out on you, but only if you take proper care of it. Here are some common mistakes that people make:
Over-frequent charging: Depending on how often you use it, your phone may not need to be charged every night. A new battery can potentially last 3-4 days on a charge.
Unnecessary battery usage: Some background programs regularly access the internet and eat up your battery's energy. This means you'll need to charge it more often, which kills the battery life faster. By shutting down background programs like iCloud, you can make your battery last longer.
Plugged in too long: It usually takes an iPhone battery 4-5 hours to charge fully. If you leave it plugged in longer than that, it can start to damage the battery's efficiency.
But suppose it's too late. Suppose your battery can no longer go a full day without charging. Rather than attempt to replace it yourself, take it to our repair center. We provide fast replacement as well as a warranty with all our repairs. Combined with our years spent doing mobile device repairs, you can be sure your iPhone's battery is in good hands. Contact us at (212) 292-8005 for more information.