iPhone 5 Headphone Jack Replacement and Repair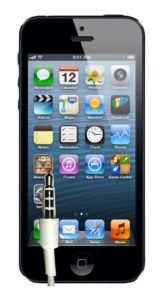 Chances are, the headphone jack on your iPhone 5 sees a lot of use. Earbuds and headphones are very popular for listening to music nowadays, and constantly plugging and unplugging them can wear out the headphone jack. Once this starts to happen, you might detect the following issues:
Cracked or faulty audio
Muffled or faint sound through headphones
Sound cuts in and out
Total lack of audio through headphones
None of this is welcome while you are trying to listen to music or have a conversation. Sometimes, a lack of audio may be due to some issue other than the headphone jack. You might want to try the following on your own to diagnose the problem:
Check the volume settings: When first using the headphone jack, the volume may be set to zero. Double check the volume and turn it up if necessary.
Reset the device: If you have already had the headphone jack replaced, you may need to reset the device before the iPhone 5 will put sound through it.
Clean the connections: With time, the headphone plug and jack can get dirty, so be sure to keep them clean.
Check the headphones: The problem may be the headphones you're using. Try a different set to make sure this isn't the case.
We always have spare parts in stock at NYC Mobile Device Doctors, so our knowledgeable technicians are always ready to replace your iPhone 5's headphone jack. We serve residents from all around the New York Metro area with this quick 25 minute service. If you're having headphone sound problems, come see us!