iPhone 5 Lock Button/Power Button Repair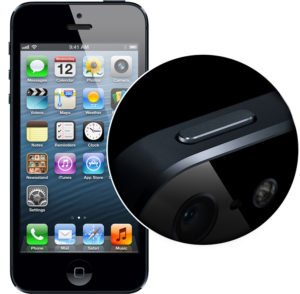 The Lock button on your iPhone 5 can get lodged in the device, making it harder to use. It may even completely disconnect from its wiring, limiting your ability to take screenshots or power the device on or off. If you live anywhere in the city of New York, NYC Mobile Device Doctors can have your iPhone 5's lock/power button repaired or replaced within 25 minutes.
If for some reason you're not able to take your iPhone in for repairs right away, there is a temporary option. You can turn on Assistive Touch:
Go to Settings > General > Accessibility and activate Assistive Touch.
You'll now have a little gray button on your screen. Press it.
From the options provided, tap Device.
Tap and hold Lock Screen to power off the device.
You can also take screenshots by going to More and tapping Screenshot.
There downsides to this option are pretty obvious. The on-screen button that shows your Assistive Touch options tends to get in the way on the small 4 inch screen, and you are unable to power your device on without a computer. As soon as you can, take it to our qualified technicians to get the power button repaired.