iPhone 5c Cracked Screen Repair and Replacement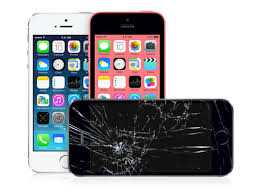 Cracking and shattering can limit the usability of your iPhone 5c, since the touchscreen functionality of the device might also have been damaged. This can be quite frustrating as you find some functions impossible or harder to access. If the touchscreen has been rendered totally nonfunctional, your phone is nothing more than a useless brick of plastic, glass, and metal until you get it fixed.
The best solution is to avoid damage in the first place. While not all accidents can necessarily be prevented, you can limit the chances that one will cause damage to your phone. Ways that you can prevent future damage to your iPhone 5c screen include:
Using a smartphone case: The extra padding and raised edges of a cover will make it less likely that the screen will make contact with hard surfaces if it falls.
Keeping it in a secure place: Avoid placing your iPhone 5c on the edges of surfaces or in containers with other hard objects.
Not using it while otherwise occupied: Keeping your smartphone in a busy place where you have a lot of objects moving around (such as a kitchen counter or worktable) can make it more prone to falls and other accidents. Keep it in your front pocket or in its own out-of-the-way space.
The procedure only takes 10 minutes since we always have the needed replacement components on hand. If your phone needs a screen repair, come to us for fast, quality service that you can trust, or call us at (212) 292-8005.