iPhone 5c Speaker, Earpiece, and Microphone Repair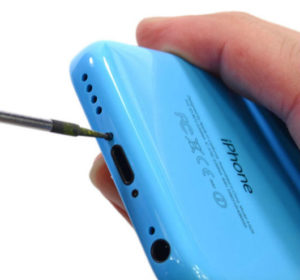 Having trouble talking on your iPhone 5c? Any phone relies heavily on its ability to receive and transmit sound, and if it loses that capability, then it can no longer function as a phone. The iPhone5c gets clear sound recording and voice reception through its HD microphones, and the earpiece and loudspeaker offer good sound quality during phone calls or when listening to music. Such high-precision components can be easily damaged by falls and liquid, or they may wear out or clog over time.
The following symptoms indicate a need for repairs. For the microphone:
Sound recordings are muffled or crackly.
Siri has more difficulty than usual understanding what you are saying.
You are unable to record voice memos.
Your fiends and family have trouble hearing you during phone calls.
For the speaker and earpiece:
Music and sounds are unclear or can't be heard at all.
You can't hear people on the phone.
Sounds are distorted or muffled.
If you are experiencing any of these problems and are a resident in New York City, then our professionals at NYC Mobile Device Doctors can easily repair your phone's speaker, earpiece, or microphone within 30 minutes. We always have original manufacturer parts in stock, and we provide quality same-day repair. Our technicians are also highly knowledgeable and skilled, so you can be sure that we'll complete the needed repairs properly with minimal risk to your smartphone. To restore sound quality on your iPhone 5c, call us at (212) 292-8005 for an appointment! We also take walk-ins, so feel free to drop by if you happen to be in the area.