iPhone 5s Headphone Jack Replacement and Repair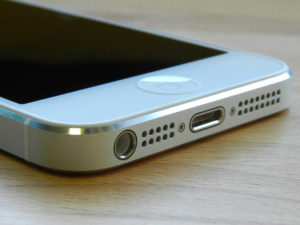 Come let our experienced professionals at NYC Mobile Device Doctors check the headphone jack on your iPhone 5s and repair or replace it as necessary. We always have OEM quality parts in stock, which allows us to provide same-day service that won't diminish your device's quality. We also provide a warranty on all repairs. Take your iPhone to us for headphone jack service if you find any of the following issues:
Static, crackling, or intermittent sound through headphones
No sound through headphone jack when there is sound through the speakers
Muffled or faulty sound
These are all symptoms of a bad headphone jack, and require professional repairs to get the most reliable results. Of course, other factors may cause faulty sound output, such as dust clogging the port, low volume, or faulty headphones. It's easy to test these on your own to diagnose the problem, but if you clean the port, turn up the volume, and try a different set of headphones and still have sound problems, then the issue lies with the headphone jack. If this is case, we can help you. The repairs take only 25 minutes, so feel free to visit us! You can also call at (212) 292-8005 to set up an appointment.