iPhone 5s LCD Replacement and Repair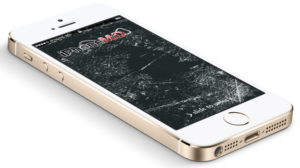 Has a bad fall left your iPhone 5s with display issues? A lot of problems can result from a damaged LCD (Liquid Crystal Display) which get in the way of normal usage. They may even keep you from using your smartphone at all if they are severe enough. The LCD is the foundation for the phone's entire usability since it projects what you see on screen. Without it, your phone is impossible to navigate, making it useless. You'll need repairs if you can answer "yes" to any of these questions:
Do you have blacked out spots or sections on the screen?
Are parts of the display blurred or distorted?
Are there patterns of lines across the screen?
Does the screen remain blank, even when your phone is on or when getting a call?
Unfortunately, LCD issues are not covered by most warranties since they generally don't result from faulty materials or construction. Repairs at other places may be expensive or unreliable, so you need to be careful where you take your phone for repairs. Without the proper experience and familiarity with Apple devices, other places can harm fragile components in the process of fixing the LCD.
Fortunately, NYC Mobile Device Doctors gives you a simple solution. We have certified technicians and a stock of OEM quality parts always at the ready for whatever disaster may befall your iPhone 5s's LCD. We offer same-day repairs, and we can replace or fix an LCD within 10 minutes.