iPhone 5s Cracked Screen Repair and Replacement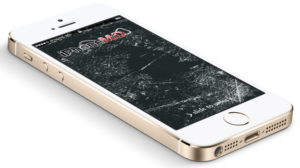 While the lightweight aluminum casing on the iPhone 5s offers some protection for the glass screen, it is still prone to scratching, cracking, and shattering. Whenever you drop your smartphone, your first reaction (after the mind-numbing shock and mild panic wears off) is to check the screen for cracks and make sure the display is still working. At that point, you either sigh in relief if there is no damage, or cringe upon seeing a web of interlacing cracks spread across the screen. Even if the display still functions, the cracks can still get in the way. They obstruct your view of what's on screen, and they can even indicate a broken digitizer, thus effecting touch functionality. Rather than carry around a cracked phone or purchasing an upgrade, you can take it to NYC Mobile Device Doctors to get the screen fixed.
The certified professionals at repair center have extensive experience repairing smartphones. With our constant supply of OEM quality parts, we can fix your iPhone 5s's screen in 10 minutes same-day at an affordable rate. Taking your phone to us is fast, easy, and reliable, and you avoid the hassle of sending it to Apple or trying to replace the screen yourself.
How do I protect my phone's screen in the future? There are ways to reduce the chances of cracking the screen in the first place. Even after repairs, you might want  to consider some of these tactics to save you money in the future:
Using an iPhone case: Along with warding off scratches to the aluminum casing, a simple cover for your smartphone can prevent screen damage from falling or other accidents. The protection it gives around the screen can deflect it from surfaces that might otherwise scratch or shatter it.
Keeping the phone secure: Damage is more likely to occur if your iPhone is on the edge of a table or counter or in a container with hard objects. Avoid these situations whenever possible.
Giving the phone its own space: Kitchen counters and work tables are usually places of high activity where you often move numerous objects around. To avoid accidentally bumping your phone, keep it in its own space out of the way of your work, such as in your front pocket.
Even while taking precautions, accidents can still happen, so reliable service at an affordable price can be a relief when those unsightly cracks mar the surface of your expensive phone. Our NYC repair shop is in easy reach for residents of Manhattan, Brooklyn, Queens, NoMad, Upper West Side, Midtown East, and anywhere else in the New York Metro area. For quality screen repair and replacement, come visit us or call (212) 292-8005 for an appointment!