iPhone 6 Services
| | |
| --- | --- |
| iPhone 6 | |
iPhone 6 General Repairs
Like with any high-tech device, the various components on the iPhone 6 may eventually need repairs or replacement. Replacing the phone itself or upgrading to a newer model can be pretty expensive, and sending it to Apple for repairs can get annoying as you wait for them to take care of it and send it back. The good news is there are plenty of mobile device repair shops in New York, though not all of them may be trustworthy. Fortunately, NYC Mobile Device Doctors is not like other third party repair centers. Here's why: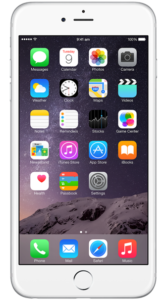 Our professionals have years of experience in the industry, during which we've developed precise skills and techniques.
Our precision and speed save you money, making us your most affordable option in NYC.
We keep OEM quality parts in stock at all times, so there's no waiting or dealing with mediocre repair quality.
We offer a 90-day warranty on all repairs.
Our service center is in easy reach for residents throughout New York, including Brooklyn, Manhattan, SoHo, East Side, Midtown East, and Upper West Side.
We handle all varieties of problems, including cracked screens, broken LCD displays, old batteries, water damage, worn or broken buttons, broken headphone jacks and charger ports, bad cameras, and muffled/staticky speakers and microphones.
If your iPhone 6 needs any kind of repair work and you're in the New York Metro area, don't hesitate to come to us for help. Most repairs only take about 15 minutes with our same-day services. So avoid the hassle of sending it to Apple or trying the repairs yourself. Let our professionals do the hard work so you can get back to using your phone as it was intended. If you have any questions or wish to set up an appointment, call us at (212) 292-8005.
About the iPhone 6: With a sleek design, fast 1.4 GHz processor, and tons of improvements and features, the iPhone 6 (model numbers A1549, A1586, and A1589) is a powerful smartphone with high-end processing capabilities. Various carriers provide service for the iPhone 6 16 GB, 64 Gb, and 128 GB, including Verizon, AT&T, Sprint, and T-Mobile. The advanced cameras offer high-resolution photo shooting and video recording, and the Touch ID in the Home button adds an extra layer of security to your phone.
If you have the iPhone 6+ and are experiencing intermittent touch problems or a flashing gray bar at the top of your screen, you might have the famous Touch IC Disease, click here to read more and see how we can fix it.