iPhone 6 LCD Replacement and Repair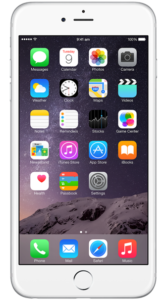 Sadly, accidents happen, and you may find that the LCD on your iPhone 6 needs a replacement or repair. You may drop it, sit on it, or drop something on it, cracking the screen and damaging the display. In this case, you want to take it to a service center that you can trust and who will get your device back to you as quickly as possible. An LCD repair only takes about 10 minutes, and our professionals have been working with mobile devices for years, meaning that your phone is in good hands.
Since a broken LCD gets in the way of normal usage, repairs are necessary if you wish to keep using your phone the way it was intended. The following symptoms indicate the need for repairs:
Splotched or blacked-out portions of the screen.
No display on screen, even though the phone still makes sounds, like ringing or alerts.
Blurred or distorted portions on the display.
Lines and weird colors form patterns on the display.
Obviously, these would all make using your smartphone difficult, if not impossible. Fortunately, we always have parts in stock and provide same-day service, so if you have any of these issues, you won't need to have them for long. And you won't need to figure out how to do the repairs yourself either. Such repairs can be risky, and someone who is inexperienced may inadvertently cause further damage to the phone while disassembling it. Sending it to Apple can also be a hassle as well as expensive, especially since LCDs are not usually included on warranties. In order to be sure that you're getting fast, reliable, and affordable service for your iPhone 6, take it to NYC Mobile Device Doctors as soon as you can, or call for an appointment at (212) 292-8005.