Samsung Galaxy Screen Repair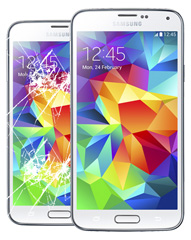 One of the most common problems that people deal with in regards to the Samsung Galaxy is a damaged, cracked or broken screen. Why is this the case? It's not because the screen is made less than satisfactorily. It's not because the glass is weak. As a matter of fact, the glass is incredibly strong on these devices, but even so, it is still subject to damage if you use it every single day and drop it or drop something on it. If you spill water on it, it might not respond to your touch anymore. If the screen has gone all black or all white, or if it is not responding to your finger, then you need to call the team at NYC Mobile Device Doctors. We specialize in Samsung Galaxy screen replacement in New York City. Midtown East locals will find that we are extremely convenient location-wise. We make sure that you can get the Samsung Galaxy fix that you need, at a price that you can afford. We are a small repair shop that locals love to visit. Perhaps this is because of our fast turnaround (we return your device on the same day) or maybe it is our excellent customer service. We treat our customers like family, and we believe that this is why they return to us. Call us before you go to your provider and pay a fee that sounds excessive or upgrade to a device that you don't necessarily need yet. We won't make you sign or extend any contract. We will back our service up with a warranty and ensure that you are satisfied with the result. How can you go wrong with us? Come to us for Samsung Galaxy screen repair solutions, today!
Make an appointment by calling us now.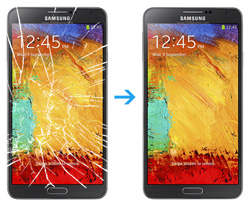 We work on even the most recent models to hit the market. You can bring us the iPhone 6, 5, 5c, 4S, iPad Air, iPad with Retina Display, Samsung Galaxy Note 3, or a plethora of other smartphones and tablets. We work on them all and offer all sorts of solutions, from digitizer and LCD repair, home button repair and water damage repair to charging port repair, headphone jack repair and cracked glass repair. The licensed experts at NYC Mobile Device Doctors are Midtown's most skilled professionals when it comes to the most recent technology. You will fast see why locals continue to come to us and recommend us to others. Speedy results, inexpensive prices and a trusted warranty set us apart from other local smartphone repair shops in New York City. We also offer free advice. Did you spill water on your Samsung Galaxy? Oh no! Be sure to shut it off fast, so that a short doesn't occur. You can try the old dry rice trick, but if that fails to work, come to us quickly. The faster you act, the faster these problems can be resolved and less damage will be caused to your device. New York City Samsung Galaxy screen repair should only be done by our team of professionals. Find out more about us by calling today, or feel free to stop by at your convenience because walk-ins are always welcome here. Remember, we will get your device repaired and returned to you on the same day that you bring it in!
Call us!