Galaxy Note 3 LCD Replacement and Repair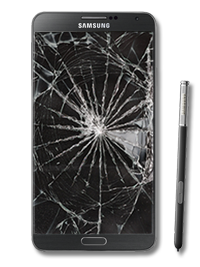 If you see that parts of your screen are blurred or distorted, blacked out, hashed with lines, showing abnormal color, or are otherwise blank, then you need to get LCD repairs on your Galaxy Note 3. The bad news is the LCD, or Liquid Crystal Display, is not usually covered by warranties, which can make repairs costly. The good news, on the other hand, is that if you are anywhere in the New York Metro area, you have a convenient, affordable, and high-quality solution available. That solution is the NYC Mobile Device Doctors repair center!
Rather than spend lots of money you don't have on a new smartphone, take your phone to our expert technicians for same-day repairs. We can repair a faulty or broken LCD in just 20 minutes. There's no waiting for us to order replacement parts, since we always have quality OEM quality parts in stock. As if that weren't convenient enough, we also do all we can to minimize the repair's cost to you, making this a far more affordable option than getting a whole new phone.
LCD issues have a variety of causes, with these being the most common:
Corrosion or shorting from water intrusion
Damage to the front screen assembly from a fall or other impact
Defective parts
Loose or faulty cables and connections
Our professionals have plenty of experience with smartphones, and we'll diagnose the problem and get it solved without messing up other parts of your phone. If your smartphone has LCD issues, there is no reason to delay. Your phone will be useless until you get the needed repairs done since the phone is impossible to navigate if you can't see the display. This renders the specialized stylus features completely pointless as well. In order to get back to using your Galaxy Note 3, take it to our repair center right away for service you can trust.