Galaxy Note 4 Charger Port Replacement and Repair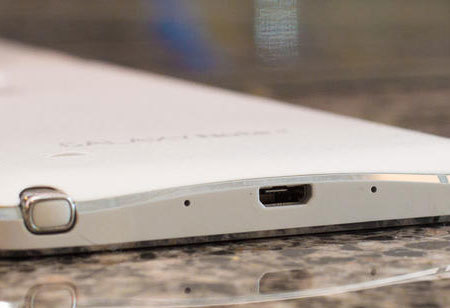 Having trouble charging your Galaxy Note 4? Within 20 minutes, we can diagnose and repair whatever problem is keeping the charging port from doing its job. If your phone is having difficulty charging, or if the charger plug no longer seems to fit properly, then there is likely something wrong with the port. It may be damaged or worn, and you need a qualified technician to fix it if you want to be sure it will work properly again. Our experience stretches back many years, so we know how to handle just about any problem your phone might throw at us.
If your phone takes longer than two or three hours to fully charge, then you may have a problem with the charging port. Worn out surfaces, missing pins, and loose connections make the component either sluggish, intermittent, or completely ineffective. This is the cause for slow charging or for a total lack of charge on your battery. If your phone charges intermittently, it can be harmful for your battery as it randomly engages and disengages from the current.
Sometimes, charging difficulty is not due as much to a faulty or damaged charger port as it is to blockage from debris, internal damage in the phone, or even a faulty charger. Before deciding that your phone needs charger port repairs, try testing it with a different charger and cleaning out the port with compressed air. If neither of these seems to fix the problem, then take it to us for repairs. We take appointments as well as walk-ins, so you're always welcome to stop in or give us a call!