Galaxy Note 4 Speaker Repair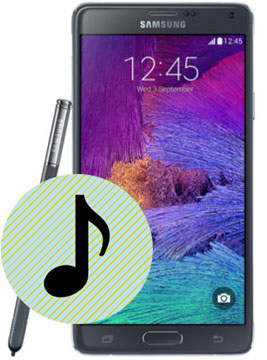 When you notice your speaker is starting to go out, take your phone to NYC Mobile Device Doctors. We offer the best value in New York City for repair services, thanks to our expertise, timeliness, and innovative techniques. Given our convenient location, we are your most accessible option for speaker repairs in New York as well.
If you're getting scratchiness, crackling, or no sound at all through the loudspeaker on your Galaxy Note 4, then you likely have speaker problems that need prompt repairs. Not only can this limit your options when listening to music or communicating over the phone, it can also lead to missed calls and alerts since ring tones and alarms will be harder to hear. If you use your phone as an alarm clock, this can be especially problematic. Putting it on vibrate is an option if you think it will wake you up in the morning, but it will also drain your battery much faster than normal sound alerts will. As soon as you notice speaker problems, take your phone to a trusted repair center like NYC Mobile Device Doctors.
Whether it's bad sound, muffled sound, or no sound at all, we'll have it fixed in 20 minutes. Visit our shop or call (212) 292-8005 for an appointment.