Galaxy Note 4 LCD Replacement and Repair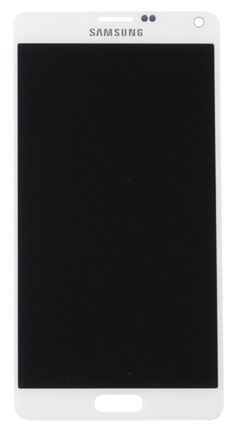 A broken LCD (Liquid Crystal Display) is a serious issue because you can't use your phone without it. If the LCD is not working properly, then you may have sections of the screen that are blacked out or warped in some way, keeping you from seeing what you are doing. On the Galaxy Note 4, a number of symptoms indicate a broken or faulty LCD:
Blackened sections of the screen: This could be due to dead pixels from screen damage or broken transistors in the LCD. It may also be caused by liquid crystal seeping through a crack.
Entirely blank screen: Either the LCD component is completely broken, or it there is a bad connection somewhere and it is unable to display anything. If you look closely and see a faint pattern, then you likely have a problem with the LCD component itself.
Lines across screen: These will usually form a pattern of some sort, like a series of lines close together and spreading out as you go down the screen. This is almost certainly due to a faulty or damaged LCD display.
You can rely on NYC Mobile Device Doctors to fix these issues quickly without risking careless damage to your device. Unless you have someone who really knows what they're doing work on your phone, there is a good chance that repairs might cause more harm than good. Fortunately, our technicians are all very experienced with smartphone repairs, so there is minimal risk. We also strive to make repairs as cost effective as we can. We won't charge you for more components than were strictly necessary to replace.
With a constant supply of OEM quality replacement parts in stock, years of experience, and a convenient location for residents throughout New York City, we can resolve LCD issues for locals all around within 30 to 45 minutes. When you need to rescue your Galaxy Note 4 from existence as a paperweight, come visit our repair center for LCD repairs.