Samsung Galaxy S4 Earpiece Repair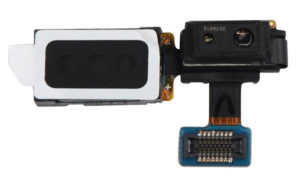 Unable to hear people on your Samsung Galaxy S4 smartphone? If static, crackling, sounds cutting in and out, or lack of sound during calls has you frustrated, then we have a fast, easy solution. Bring your smartphone to the professionals at NYC Mobile Device Doctors for 30 minute repairs on the earpiece. Our technicians provide you with expert service the very same day you bring in your phone, and we offer a warranty on all repairs to make sure your device is fixed properly. There are a number of issues that can cause earpiece problems:
Loose internal connections
Impact damage on the component
Water damage
Dust buildup, especially in the speaker diaphragm
It is also possible that your earpiece problems are due to a software problem. If you are getting no sound out of your phone's earpiece, try removing some applications and testing the earpiece by making a test call to your voicemail. It could be that an app is preventing normal speaker function. If you still have problems with the earpiece, then it is most likely a hardware issue. If this is the case, then you'll need to get it repaired. The sooner you do so, the better, because without the ability to hear phone calls, you end up wasting money on your carrier, whether that be Verizon, T-Mobile, AT&T, or some other service provider.
Since speakers can be a bit delicate and the process of getting to them involves digging through the phone, you need strong technical know-how and experience in order to do the repairs correctly. We have extensive experience working on smartphones, so we know what we're doing better than anyone. If you live anywhere in New York City, you can trust us to get your phone's earpiece speaker back into shape without risking damage to the rest of your device. Just pay us a visit or set an appointment: (212) 292-8005.