Samsung Galaxy S5 Battery Replacement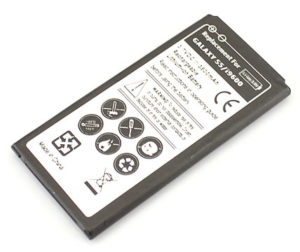 Does this situation sound familiar? Your Samsung Galaxy S5 keeps dying on you at the most inconvenient times. You charge it more often than you used to for fear that it will randomly shut down on you. You are often tied to an outlet in order to keep your phone running, making it less of a mobile device and more of a highly advanced landline. If this describes your situation, then you likely have an old battery in your phone. No battery lasts forever. Eventually, it will start losing charge capacity, and you'll end up charging it more frequently in order to keep the phone going.
There are a couple ways to handle battery problems. One is to take it to experienced professionals at a repair service center. NYC Mobile Device Doctors is conveniently located for residents throughout New York City, and our skill with mobile phone repairs is top quality. With a constant supply of replacement OEM quality parts, we offer same-day battery replacement that takes about two hours.
Another option is to take care of the battery and prevent it from dying so quickly in the first place. A battery will only last through a certain number of charges before it starts losing capacity. If you only charge it as long and as frequently as it needs to be, then you'll extend the battery life. Of course, it will still eventually die, just not as quickly. When it does, we are here to help.