iPad 3 Screen, Front Display, and Digitizer Repair and Replacement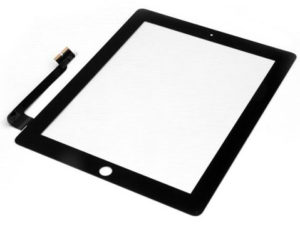 Broken front display on your iPad 3? Cracks, scratches, and spider web shattering on your 3rd gen iPad are not only unsightly, but can also be a bit dangerous. In order to get back to safely using your iPad 3, take it to NYC Mobile Device Doctors. Our experts are very familiar with the challenges that screen and digitizer replacement presents since we have lots of experience working with such devices. Overall, the repairs take an hour to complete as we replace broken parts with OEM quality components from our constantly full stock.
If your cracked screen sees any more impacts, the screen could shatter completely, hurling tiny shards of glass all over the place and possibly injuring your hands or eyes. In addition to this, you might have other problems with the multi-touch functionality of the tablet. If the glass is cracked, the digitizer may also be damaged, affecting your ability to navigate your device properly. You might find that it makes mistakes recognizing touches and swipes, or that it no longer detects them at all if the damage is extensive enough.
If you are anywhere in NYC, our repair center is near you. Call us for an appointment today!