iPad 3 Water Damage Repair Service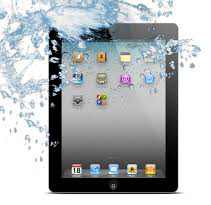 Our experts provide fast water damage restoration on the iPad 3. When your iPad 3 gets soaked, take your water damaged device to NYC Mobile Device Doctors for repairs. You probably paid good money for your iPad 3, after all, and you just as likely have a lot of stored data on it. In order to avoid the added expense of getting a new device and losing data, we provide swift and reliable water damage restoration for your tablet.
What do I do when my device gets wet? There are a few steps you can take to minimize water damage, but it requires you to act quickly. The sooner you act, the less the damage is likely to be.
Remove it from the water: Or other liquid if you've spilled a drink on it. This will keep more water from seeping in.
Turn off the tablet: As long as there are electrical currents running through your iPad's circuitry, there is a high chance that water intrusion will cause a system to short out. Once the device is off, do not turn it on again until it gets inspected by an expert.
Wipe it dry: Clearing away excess moisture will keep it from seeping into the device. Use a towel or soft cloth for this, since heating the device can potentially damage it.
Take it to a repair center: NYC Mobile Device Doctors is conveniently located for residents throughout New York. We have the tools and professional experience needed to accurately diagnose problems caused by water damage and then restore your device to 100% usability.
We do repairs as quickly and efficiently as we can, but the time and price of water damage repairs will vary depending on the amount of damage. In any case, you  can be confident that we'll do the repairs correctly without posing a risk to your device's usability.