iPhone 5c Charging Port Replacement and Repair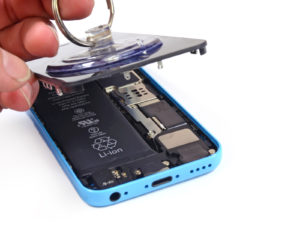 Over time, the charging port on the iPhone 5c can become clogged or worn out, keeping the phone from properly charging. The port may no longer hold the charger plug securely, or one of the pins may have broken off. It is important to get this repaired in order to ensure that your smartphone charges efficiently. A licensed repair shop such as NYC Mobile Device Doctors can repair or replace your iPhone 5c's charging port in as little as 15 minutes. Take your phone to us if:
You have to wiggle the charger to get it to charge.
Your phone doesn't charge at all or does so erratically.
The port shows signs of wear, such as broken pins.
iTunes has difficulty recognizing your phone when it's plugged to your computer.
These symptoms are not the result of an overheating device or clogged port.
You can always count on our experienced professionals to get your iPhone 5c back to charging properly again. Whether it needs repairs or replacement, come to us for fast, affordable service. If you have questions, call us at (212) 292-8005.