iPhone 6 Speaker, Earpiece, and Microphone Repair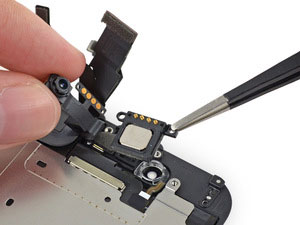 When is a phone no longer a phone? You need your phone to pick up and transmit sounds accurately if it is to be of any use for communication. Sure, the iPhone 6 makes for a good all-around device, but it is primarily a phone, after all. If you have trouble using it for calls, either because of a faulty microphone or bad speakers, then it loses a large part of its functionality and you end up wasting money on your carrier, whether that be Verizon, AT&T, T-Mobile, or other services. In order to keep getting the most out of your phone, you want to keep the microphone, earpiece, and speaker in good condition. When you need repairs on these components, our experienced professionals here to help at our service center.
You can rely on NYC Mobile Device Doctors to provide fast, professional service for your iPhone's earpiece, speaker, and microphone. We always have OEM quality parts in stock, enabling our professionals to solve the following issues in about 30 minutes:
No music or sound through speakers.
Garbled voices or sounds on loudspeaker.
Alerts and ringtones are no longer audible.
Lack of sound during phone calls.
Sounds cut in and out.
Crackling or static during calls.
Earpiece sounds like it's muffled.
Inability to record voice memos.
Siri is unable to hear or understand you, no matter how clearly you shout at her.
People have difficulty hearing you during calls.
Voice and sound recordings are scratchy or distorted.
These issues can be resolved by replacing either the speaker, the earpiece, or the microphone, which can all be a bit complex. Other places may not have the experience that this repair demands, but our technicians have been working on mobile devices for years. If you find that your iPhone 6 needs a repair, come to our shop or call (212) 292-8005 to set up an appointment.