Galaxy Note 4 Cracked Screen Repair and Replacement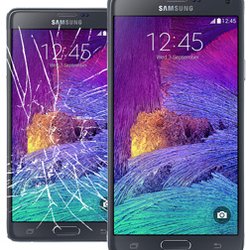 Does a broken screen on your Galaxy Note 4 have your productivity down? If your phone has a cracked screen, then the professionals at NYC Mobile Device Doctors are available to help with skills and knowledge born only of years of experience. With our convenient location in New York City, we are always prepared to give you the best service possible. We work quickly and effectively in order to repair or replace your cracked screen without unnecessarily uprooting other components.
The phone comes with plenty of apps and functions that utilize the precise S Pen stylus, and the large display size can be used to show multiple apps at once. This gives it a great deal of productivity options as you use it for work or play. All these features make it all the more distressing when the screen breaks from a fall or other accident. You not only have ugly cracks across the screen, but you might also lose the touchscreen capacity in the phone, making it useless.
We are in the area, and we can get that screen fixed without hurting your wallet. We always have the needed parts on hand, so repairs can be completed within 1 to 1.5 hours the same day you bring it in. Don't suffer needlessly with a cracked screen! Contact us today!